Summer program NDG 2021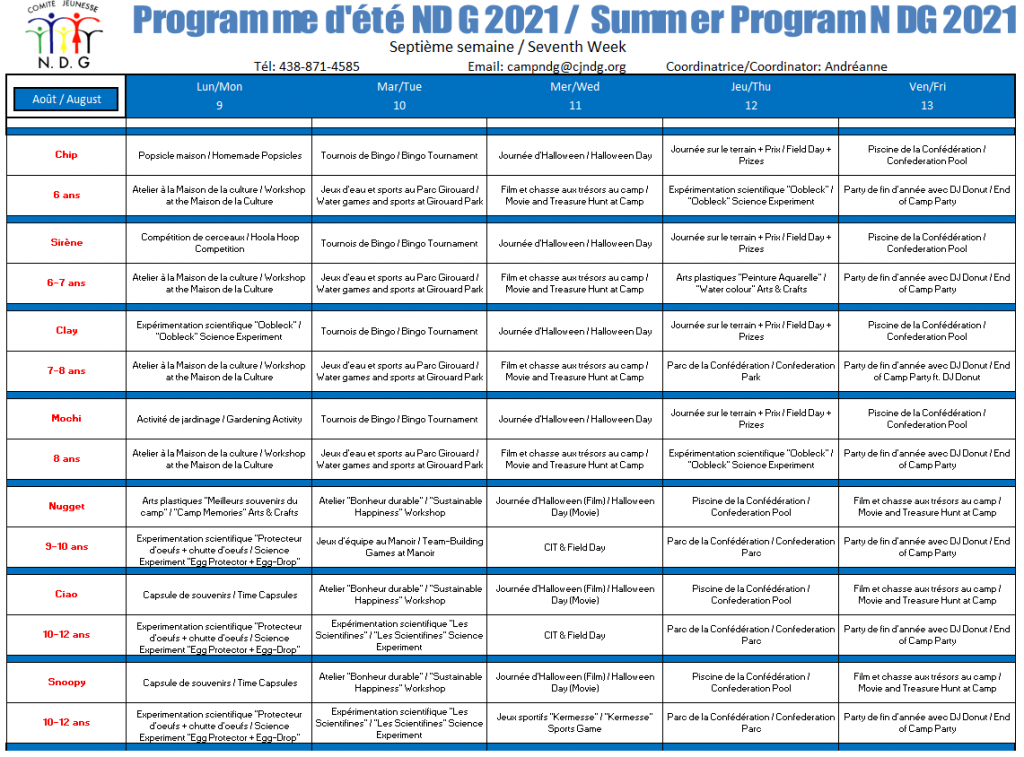 Summer Program NDG 2021
Location: Centre NDG
3757 rue Prud'homme (corner Côte St-Antoine)
$580 / child
NOTICE:
****Funds have been allocated for activities, supplies and salaries for the last two weeks of the camp program. As of today July 30, we will no longer be accepting requests for refunds or reimbursements.
Ages
6 – 8 year olds : 0 places available
9 – 12 year olds : 0 place available
Child must be of camp age as of June 28th, 2021. Proof of age is required (copy of Medicare card must be presented before the start of camp).
Dates
Tentative dates: Monday June 28th to Friday August 13th, 2021.
Hours:
Monday: 9 am – 4 pm on site
Tuesdays: 9 am – 4 pm on site
Wednesday: 9 am – 4 pm on site
Thursday: 9 am – 4 pm on site
Friday: 9 am – 4 pm on site
Extended Service – To be determined
Includes
7 weeks of modified activities and Camp T-shirt
---
Payments
Only payments by Interac, Visa, MasterCard, American Express, Echeck and Etransfer will be accepted.
We do not accept personal cheques.
ALL FEES MUST BE PAID IN FULL BEFORE THE BEGINNING OF THE CAMP.
No additional activity fees.
Parents must supply a lunch and snacks
---