Comité Jeunesse N.D.G. supports over 100 community events through the use of sound, video projection equipment and games in the Borough of Côte-des-Neiges / Notre-dame-de-Grâce. These events include galas, volunteer evenings, award banquets and park festivals. Support for these events is offered to partner organisations by the city of Montreal.
The park festivals have entered into their sixth year of providing services to the community. From the first movie in the park with 60 people, to the park festivals with over 1500 citizens. CJNDG and our partners have provided services to over 72,000 citizens in 2008, through the special events program.
It is not an easy task to stage 70 special events in a six month period. These events take the planning of four partners and numerous hours. Over 95% of the work for these events is carried out by volunteers from various community groups.
The park festivals are sponsored by numerous organizations including Jeunesse Benny, Benny Camping Group. The movies presented at the festivals, are subsidized by the city of Montreal.
CJNDG Event


THIS EVENT IS HOSTED BY THE NDG COMMUNITY RESILIENCE COALITION AND IS BEING POSTED ON THEIR BEHALF.
The NDG Community Resilience Coalition is hosting a Black Futures Event online designed for aspiring Black entrepreneurs and those with Black-owned businesses.
Please see the attached poster for details and special guests !
The Coalition is made up of the following NDG Community Organizations:
– NDG Community Council- Comité Jeunesse N.D.G.- St. Raymond Centre- Walkley Centre- Westhaven Community Centre- Women on the Rise- Head and Hands- Jeunesse Loyola – O3: On Our Own- The Depot Community Food Centre
You are invited to join us on Zoom Sunday March 20th from6:30-8:30 pm.
https://facebook.com/events/s/lafro-descendance-au-futur-ent/3045276469022268/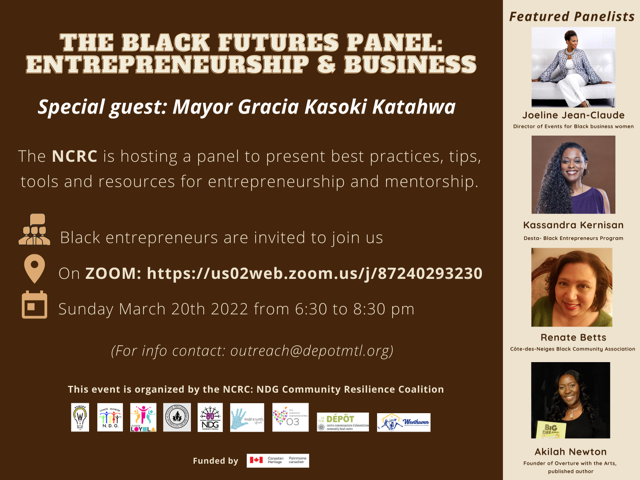 St-Raymond Events
Walkley Events